Yoga Classes in Howick
There is more to yoga than twisting your body in funny shapes! Yoga is primarily is primarily a spiritual practice. By practising postures, breathing exercices, relaxation and meditation,  we are connecting the body and the mind. It is a beautiful journey to discover your true nature.
In our very fast pace world, learning how to relax the body and the mind through the practice of yoga is very helpful. At Kiwi Yoga, you will practice a classical Indian style of yoga called Hatha yoga. Its aim is to balance the body, mind and emotion.
Improve your posture
Tone & stretch your body
Release your stress
Breathe better
Have higher energy…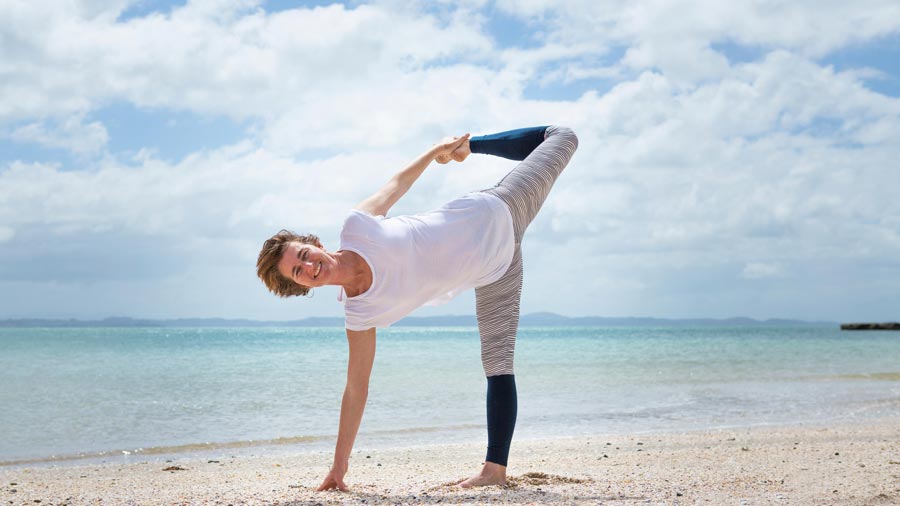 The postures will make your body more supple, stronger, more energised. They will bring a stronger awareness of your body and your posture. The pranayama or breathing exercices who teach the importance of the breath to settle te body and the mind. The relaxation or yoga nidra at the end of the practice will completely relax the mind and the body and at the same time develop a stronger concentration and focus.
FIND OUT MORE – Contact Nadine on 021 356 305
All Classes Back the Week of February 10th
Massage Now Available!
We are now accepting bookings for our Zenthai massage. This fully clothed massage happens at ground level on a mat. With this massage your body will be moved to create freedom where there is tightness or constriction, resulting in a deep sense of relaxation and energetic flow.
Recent Testimonials
Lisa has a beautiful energy which she uses to guide each yogi through their own unique journey. She is extremely knowledgeable about the body and able to tailor poses to suit all needs and levels. She brings a beautiful and...read more→
Lisa's Yin Yang class. Great class, I have been going for over a year. Lisa's happy personality and wise words create a calm and relaxing environment for the class. She plays gentle music for the duration of the class and...read more→
Nadine is one of the best yoga teachers I have been to in 17 years of yoga practice. She has a theme each week, begins each class talking about the areas her class will cover and has a good balance...read more→
Nadine is a beautiful genuine human being who is truly passionate about sharing the love and joy of yoga.
Nadine is an amazing, focused and enthusiastic yoga teacher, willingly shares the light and spirit, making the class a special place to be ! Thank you for sharing your knowledge and energy. I enjoy all my yoga sessions at your...read more→
Nadine's yoga classes are one of the best I've attended. I was introduced to her by a friend and I haven't stopped going since. I've learned so much and the biggest benefit is it helps to slow the mind, which...read more→
Love the way Nadine teaches, it makes you feel truly connected. I love the way she starts most classes with a thought, or something new she has spent time researching in order to share it with us, for our benefit....read more→
I had the fortune to have a Yoga massage with Nadine a couple weeks ago. I found this massage to be very therapeutic as I have moderate Parkinson Disease. Nadine was very professional and explained as to what she was doing...read more→
I had two massages with Nadine during my holidays in NZ. I found them to help me relax more, and my body wasn't as stiff freeing up my joints and just very therapeutic came away feeling lighter. Next time I...read more→
I have had the opportunity to attend Nadine's yoga classes this year and I enjoy her teaching very much . The studio is a tranquil haven and it's a special place.This week I booked to have a massage and found...read more→
I have been attending Nadine's yoga classes for over 10 years now. She is a calm and insightful teacher and classes always leave me feeling relaxed but rejuvenated. I can credit Yoga for helping me to be a calmer person...read more→
I'll definitely be back for next term.. I look forward to my Tuesday nights with the best yoga teacher ever 👍👍👍
Nadine's massage adds stretching to the more usual massage techniques. Particularly vigilant about the balance of the body, Nadine strives to connect the different parts of our body to achieve a feeling of perfect unity at the end of her...read more→
Amazing combination of massage & stretching, felt incredible, body loved it!! Some great techniques for gentle mobilization of areas impossible to achieve on your own!! Nadine's intuitive skills reflect in her practice. Highly recommend. I'll be back for more!!
Firstly I wanted to say thank you for being such a wonderful yoga teacher. I love coming to your classes. You give a wonderful energy to the room and I always leave my classes feeling grounded and encouraged to keep practicing...read more→
I love your classes, your style of teaching, how the yoga seems to evolve and match exactly what I need every week (how do you do that?!!).
I always look forward to Nadine's classes. She's so gentle and i always feel no pressure to achieve perfect yoga poses. She has inspired me to continue doing and consistently practice yoga but always, always listen to my body! I...read more→
The classes are wonderful, thank you. A gentle and easy way to get back into our yoga practice. Cherie has led us very gently through the first two weeks, we are all feeling so much better in our selves already.
In her classes Nadine is authentic and approachable, she teaches from the heart. Nadine embraces and shares the true meaning of yoga. She has created a real sense of community, by encouraging us in our own practice and taking yoga...read more→
Lisa has a beautiful energy which she uses to guide each yogi through their own unique journey. She is extremely knowledgeable about the body and able to tailor poses to suit all needs and levels. She brings a beautiful and...read more→